Dr. ir. Gerhard van den Top
Secretary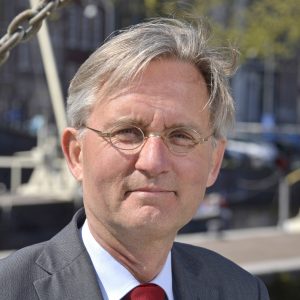 "The Prince Bernhard Nature Fund has a unique role in supporting local organisations involved in conserving nature in developing countries. With a relatively small budget the fund can have a great impact on these organisations, enabling them to reach and include a much larger group of people in the sustainble management of the natural recources in the area. They do this by using smart education and communication tools, by connecting to larger initiatives with mutual goals, by working on their own capacity to raise funds and design effective programs. The protection of nature will only sustain when when local people and organisations are motivated to and capable of reaching that objective."
Since completing his MSc studies in Tropical Land and Water Management in 1988, Dr. Gerhard van den Top has been professionally active in the field of conservation and sustainable resource management. After irrigation water management research work in Sri Lanka and the Senegal River Valley, he developed and managed an international deforestation research programme in the Northern Sierra Mountain Range, one of the large last tropical forest tracts in the Philippines. In addition to the publications and PhDs generated by this programme, a major conservation achievement of this programme was the inclusion of a large proportion of the Sierra Madre Rainforest in the Philippines National Integrated Protected Areas System in 1991.
After having returned to the Netherlands in 1995, and having completed his Environmental Science PhD degree in 1998, Gerhard joined the World Wide Fund for Nature in 1999, initially to develop and manage the WWF College for Conservation Leadership. In 2000 he joined the executive board of WWF Netherlands as Conservation Director. One of his main focus areas during this time at WWF were the mobilization of broad international support for the protection of the Heart of Borneo rainforest and the initiation of new corporate partnerships enabling 'green' consumer choices. As climate change increasingly emerged as one of the key conservation priorities for times to come, he focused his career on the energy challenge, joining Royal Dutch Shell plc as an executive strategy consultant in 2007.
In 2009 Gerhard was appointed CEO of Vitens-Evides International. Vitens-Evides International supports local water companies in developing and transition countries to improve their operations, become financially healthy and extend their services to the urban poor. The company is currently involved in supplying safe drinking-water to more than 20 million people in Ghana, Malawi, Mongolia, Mozambique, Suriname and Vietnam. With these projects Vitens-Evides International contributes to achieving one of the UN Millennium Development Goals: halving the number of people in the world who have no access to clean drinking-water and sanitary facilities by 2015. Gerhard also serves on several Board positions, like The Borneo Initiative, a private sector initiative towards sustainable timber sourcing from South East Asia . Since 2009 he has been Secretary of the Board of the Prince Bernhard Nature Fund.
"To me it is a privilege to be able to contribute to the vision of the founder of the Fund, a man who, while still alive, meant so much for the international protection and conservation of nature."